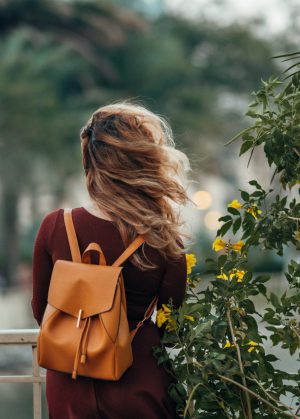 It's been a while that I have been searching for it. I lost my bag. people might think about how bad it can be to lose a bag. but I cried and whined just cause I lost it.now you might be wondering what is it that I carried in my bag. then I must tell you that it might not be that important to you. but it is to me. I have searched for it everywhere in my house. I mean every single corner but couldn't find it. after every corner I searched for it I just turn around to realize how much I messed up. I cried and cried and asked God to help me find the bag. then suddenly I heard a knock on the door. I was afraid to open the door. the knocking became harder now. I slowly walked towards the door and I started picking up my pace as the knocking did. I slowly opened the door and called out to know who was out there. nobody responded so I slowly dared to open it. the sun rays fell on me. I immediately covered my face before I could get completely blinded by the sun. and then I saw my garden. I just forgot how beautiful it looked. yes, its been a while that I came out and for a while I mean two years. the wild plants that grew among the beautiful roses and the other plants. the money plant that grew over the main gate. it was an utmost delight. I realized that I stopped crying. and this was the moment of truth. I was searching for the bag in the wrong place. I was searching it inside when it was out here all this time. my bag which was full of happiness, joy, freedom, adventure, wisdom, kindness, purity in heart. the moment I realized it I let it out. the one which was fighting with my dread for in two years. I smiled. I got up and packed my bag, but this time filled with real essentials and started out to find my bag. I was damn sure I was going to find it. I never saw the one who knocked on the door but whoever did, they knocked my sadness off and made me realize that end of the loved ones doesn't mean the end of our life too but it is to live up to their real wish. and what could be our loved ones wish other than wanting us to be happy.so I set out to find the bag which once
my loved ones gave me.
SAHASRA KAMBAM.
క్లుప్తంగా దాని అర్ధం ఇది….నేను నా సంచిని పోగొట్టుకున్నాను. దాని కోసం ఏడుస్తున్నాను. ఎలాగైనా నా సంచి దొరికేలా చేయమని దేవుణ్ణి వేడుకుంటున్నాను.ఒక సంచి కోసం ఇంతలా ఏడవాల్సిన అవసరం ఏముంది అనుకుంటున్నారా ?? అందులో ఎంతో విలువైనవి ఉన్నాయి. అందుకే పిచ్చిపట్టినట్లుగా ఇల్లంతా దాని కోసం వెతుకుతున్నాను. వెనక్కి తిరిగి చుస్తే ఇల్లంతా చిందరవందరగా గందర గోళంగా ఉంది. ఈ లోపు ఎవరో ఆపకుండా గట్టిగా తలుపు తడుతున్న శబ్దం. వేగంగా వెళ్లి ఎవరు అని అడిగాను. బయట నుండి సమాధానం లేదు. తలుపు తీశాను. ఎవరూ లేరు. అప్పుడు చూశాను …ఎంత అందంగా ఉంది నా ఇంటి ముందు ఉన్న తోట గేట్ మీద అల్లుకున్న మనీ ప్లాంట్, అందంగా విచ్చుకున్న గులాబీలు. అప్పుడే నేను ఏడవడం ఆపేశాను అన్న విషయాన్ని గమనించాను. అప్పుడు ఇంకోటి కూడా గ్రహించాను నేను వెతుకుతున్న ఆ సంచి బయట ఉంటె ఇంట్లో వెతుకుతున్నాను అని. ఆనందం, స్వేచ్ఛ, సాహసం, జ్ఞానం, మంచితనం, కల్మషం లేని హృదయం ఇవన్నీ ఉన్నాయి నేను పోగొట్టుకున్న ఆ సంచిలో . ఇప్పుడు నిజంగా నాకు అవసరమైన వస్తువులతో ఒక సంచిని నింపుకుని వెళ్తతున్నాను పోగుట్టుకున్న నా సంచిని వెతకడానికి. తప్పకుండా దొరుకుతుంది. తలుపు ఎవరు కొట్టారో తెలీదు కానీ వాళ్ళు కొట్టింది కేవలం తలుపు ని మాత్రమే కాదు నాలోని దుఃఖాన్ని తరిమి కొట్టారు. మనం ప్రేమించిన వాళ్ళు చనిపోతే దానితోనే మన జీవితం ఆగిపోకూడదు అని తెలుసుకున్నాను. అందుకే ఒకప్పుడు నన్ను ప్రేమించే వారు నాకు ప్రేమగా ఇచ్చిన సంచి వెతుక్కుంటూ బయలుదేరాను.